Whatever the occasion for your Marbella yacht charter, we will help you create a completely bespoke experience. From birthdays to corporate events, we can think of no better way to celebrate life's special moments than with a day on the beautiful Mediterranean Sea. From champagne to onboard catering, personalised towels to special decorations, let us set the scene of your dream celebration at sea. Add some extras to complete your Marbella charter experience, such as paddleboards, inflatables, Jet Skis and more.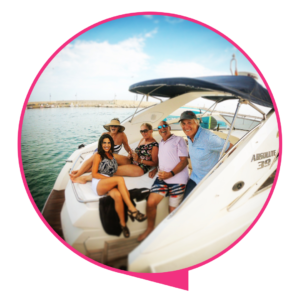 Beverly Conklin, USA
"When I planned our trip to Marbella, Spain, I read EVERYTHING I could find, and searched all over the internet for opinions and reviews on all the different tour operators, in order to ensure we would experience Marbella to the fullest. There is A LOT to do and SEE! I also wanted to make sure our group of four would be comfortable and safe. When I discovered Signature Tours Marbella, I hit a home run!!


OTHER EXPERIENCES AT SEA YOU MAY LIKE