RED TUNA FISHING CHARTER IN THE STRAIT OF GIBRALTAR 
RED TUNA FISHING CHARTER IN THE STRAIT OF GIBRALTAR 
Fishing along the Atlantic coast of Cadiz province is one the most amazing experiences to live in Southern Spain. Embark on a fully-equipped tuna fishing boat and let the crew take you through the adrenaline-filled art of tuna fishing.
Depart from Algeciras Port, one of the largest in Europe and the world in three categories: container, cargo and transhipment. You will sail along the Strait of Gibraltar, where more than 7,000 annual ships make up the characteristic landscape of this Strait. 
Every spring, shoals of massive red tuna pass through the Strait of Gibraltar, preferring the balmy Mediterranean to the harsh Atlantic waters for mating. At the beginning of this great migration, skirting the exclusive beaches of Cádiz, the illustrious silver-backed bulls of the sea are captured ´en Paso´ or ´on their way´. This migration makes the coast of Cadiz one of the most privileged places for red tuna fishing with the rock of Gibraltar and the African coast within a few miles.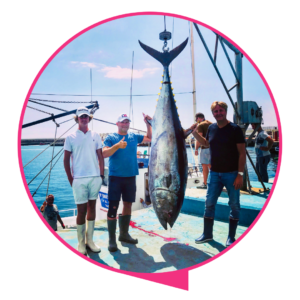 Göran Molin, Sweden
"Thank you Montse for arranging our fishing trip for Tuna Fishing in Tarifa! We really had a great time together with the crew on the boat. Excellent event to fulfill your vacation. See you soon again".